Over the last 30 years, I've been on creative roles. As
proofreader, copywriter, art director, fashion designer, start-up partner, webdesigner, creative director and creative vice-president.
My most celebrated skills are
presentations, creative thinking, brand design, marketing strategy and visual concept.
Personally I'm an advocate for good ideas and good people. Because with a great and inspired team, the best work will always happen.
My passions are
architecture, books, jazz, art, sports, dogs, traveling and technology
.
Design
is also something that I love at the point of not even considering it work. That's why I've been, in the last decade or so, designing book covers, record sleeves and brand identities.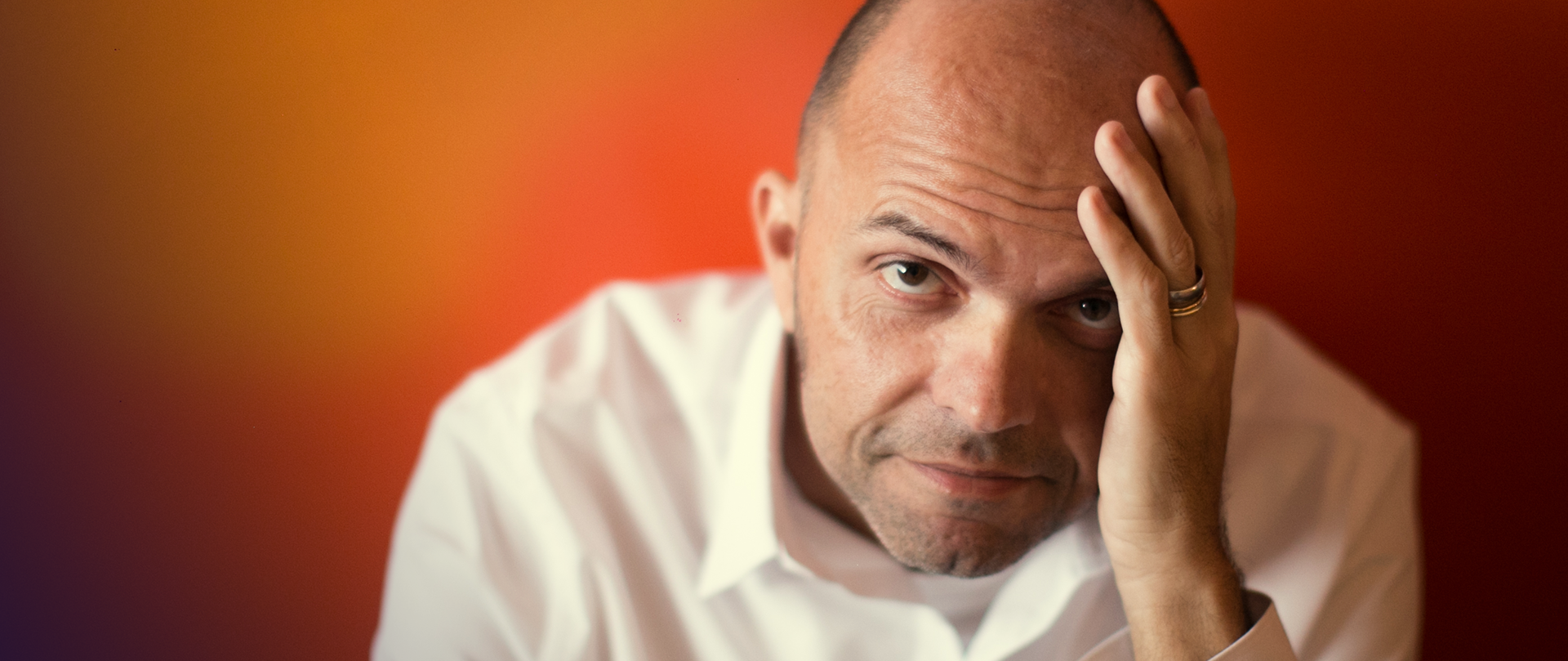 I have worked at the best ad agencies in Brazil:
DPZ, DM9DDB, Leo Burnet, Talent, Publicis, WMcCann and Isobar
. Between 2000 and 2001 I was partner of an internet startup where I got my digital/interactive skills. Later, in 2004, that awarded me a
Cannes Golden Lion
in the Cyber category.
Between 2004 and 2017 I was the right-hand-man to advertising's legend Washington Olivetto. Together we made the most successful merge in Brazilian's advertising history: W/Brasil and McCann. During almost 8 years we created effective and award winning campaigns for
Coca-Cola, Sprite, TIM Mobile, Mastercard, Nestlé, Salvation Army, Hospital de Amor and Seara
.
In the last 10 years I've been a Creative Director, the role where I have been recognised to make a difference. In 2011, for instance, I was nominated as one of the three best professionals in the country by ABP, the Brazilian Advertising Association. During the WMcCann years, I was directly responsible for winning epic pitches that brought good reputation and positive financial results for the agency. In 2011 we clinched the huge global
GM
account putting together a full-service hub, the Commonwealth. Then we developed two other hubs for 
L'Oréal
(the Beauty Team) and
Microsoft
(m:united) with dedicated and specialised talent. In 2013 I led the agency in its biggest win: the
Bradesco
Olympic Sponsorship. For 4 years, it was the most lucrative account in IPG history, at any McCann office worldwide. Then, in 2016 I had a big role in Latin America's biggest pitch:
Latam Airlines
. To win, we designed a gigantic online/offline operation divided between São Paulo and Santiago. All that and the merge of  LAN and TAM cultures at the same time. The operation, which still holds the account, is the hub called Graphene by IPG.
I also traveled the world to help McCann NY, McCann Madrid and McCann London with the Reckitt Benckiser, Coke and Nescafé pitches. I speak
Portuguese, English, Spanish and basic French
.
I opened my own shop, gimmick, in 2018. During six months I consulted, directed, planned, created, executed and understood exactly what brands like
Lupo
(fashion retail) and
Algar
(telco) needed at that moment, and what stories they would tell next.
Last year I was called by DAN Group to be the Creative Vice-President for two digital agencies: Isobar and LOV, where we did great content and beautiful campaigns for
Azul Airlines, Samsung, Nivea, P&G, Accor Hotels and 99 Taxi.
In my life,
I have led teams of 2, 20 and 70 creative people
. I've managed an operation with offices in Rio de Janeiro and São Paulo. I've attended many Advertising Festivals, a TED conference, and was member of the jury in a couple of Advertising Competitions and Creative Annuals. I've also won awards in almost every ad festival possible. In the last years, I have been a guest speaker and lecturer at several companies, conferences and universities. This is another creative role that I love to perform: to instruct, motivate and inspire people using my experience and talent.
You can find my profile on

LinkedIn.

I'm currently living in Lisbon, and you can reach me at

 +351 935 578 862.